Creative Team
The Creative Team is made of of Independent Hairdressers who manage their own businesses within Honeycomb. Find the right stylist by getting to know a little about them through their bio and schedule a consultation to talk more about your hair goals.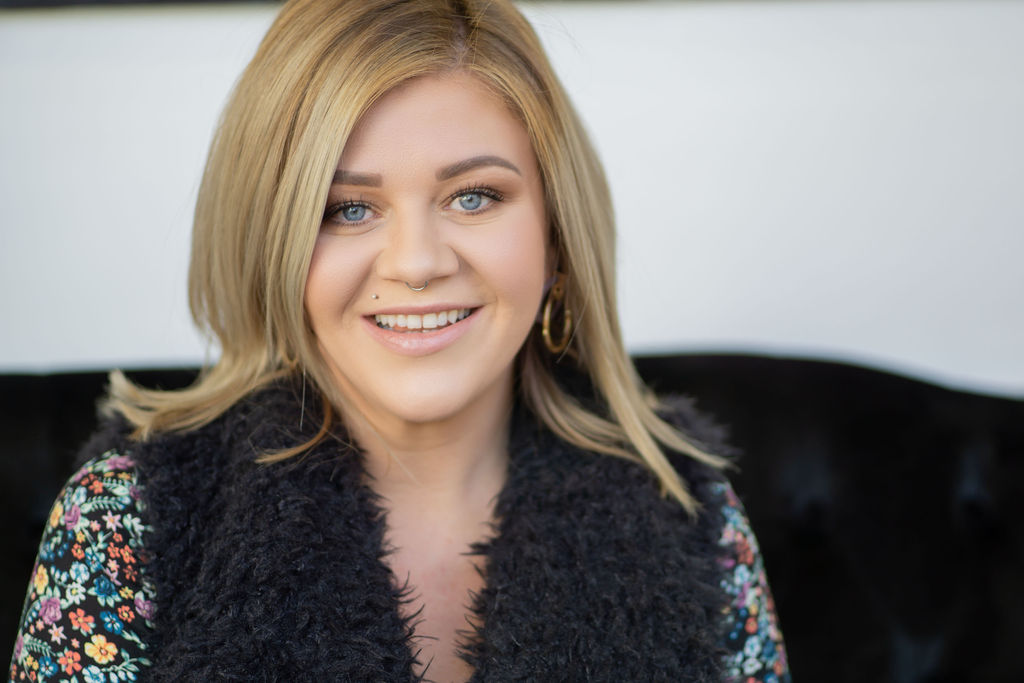 The inner and outer beauty of the people around me has always energized me. If only people could see themselves the way others do! I spent over seven years working in the bridal industry, planning dream weddings for hundreds of happy clients. I honed my skills in detailed decorating and specialized in customer service until I become pregnant with twins in 2014 and was fortunate enough to be able to step away from the work force and focus on my family.
The need for creative expression and gratifying work eventually led me back to my true passion- helping people discover their true inner and outer beauty.
With the support of many amazing family members and friends I was able to begin fulfilling that passion, graduating from cosmetology school in January of 2019.
I am elated to be starting my career here at Honeycomb and to learn from and fulfill the needs of Justina's amazing team- a "mom quality" I don't tend to shake!
When Ellen is not assisting Justina she is available on Saturdays from 8am to 8pm
Follow Ellen on Instagram @elle.jones.beauty
After majoring in the Fine Arts in College, I switched out the traditional canvas for the human canvas and found my passion in the world of hair artistry. Ive now been in this field for 7 years and it gets more rewarding and exciting with every happy client leaving my chair. My specialties are in creating creative colors (whether natural or wild), precision and fun textured cuts and formal or semi-formal styling/updos. I love connecting with every client in my chair and can't wait to give you your dream look and the confidence to conquer your days!
Besides Aveda, Morgan specializes in Matrix and Chi upon request.
Morgan is available Monday - Friday 10-6pm and Saturdays 10-3 for walk ins.
Follow Morgan on Instagram @beauty.by.morganleigh
Hello! I'm Shantelle… I've been creating behind the chair since 2012 but I've been surrounding myself with art and Beauty since high school! Giving every client their own custom art to wear with confidence fills my heart with happiness! I specialize in corrective color, blonding vivids, curly hair and pixie cuts. I'm always educating myself on the newest trends and techniques to keep my mind and skills sharp & my fire fueled.
When I'm away from the chair my interests include hanging out with my daughter, astrology, learning about anything concerning the metaphysical natural healing or conspiracy theories haha! I also love exploring the outdoors and cooking. I'm silly laid-back and positive & I love connecting with my fellow human beings. I look forward to having you in my chair let's create something beautiful together!
I specialize in Redken and Pulpriot color lines.
Due to relocating to Rochester August of 2019, Shantelle is no longer accepting new clients!
Follow Shantelle on Instagram @mysticcolorist
I'm a free spirited old soul. I became a licensed cosmetologist 3 1/2 years ago but I found my love for the beauty industry early on in high school doing hair for my friends and doing their make up and nails for special occasions. I specialize in men's cuts because I love variety and attention to detail. I also specialize in dimensional and natural hair colors.
Outside of the salon I enjoy camping, fishing and spending time with my huge family and friends.
I have experience with Aveda Paul Mitchel, Matrix, Goldwell and Redkin product lines. I'm currently accepting new clients!
Brittany is available Saturdays 11 - 7pm
Follow Brittany on Instagram @_bpcosmetology
Hello everyone! My name is Lia Brink, I'm 28 years old and I've been doing hair for 11 years. I've also been a makeup artist for 5 years. My passion for beauty started at a very young age as I was raised around the industry. I have 2 fur babies which are my kids! I love body modification and tattoos! Being a Gemini/Cancer cusp baby, my personality can be very playful but very focused when needed. Come see me at I Love Honeycomb so I can bring that inner Diva out thats in all of us!!!
Lia is available Tues 10-9pm, Wed 12-9pm and Fri 8-9pm for walk ins.
Follow Lia on Instagram @liashairdesign
I've been a licensed hairdresser for over 3 years - my love for hair is undeniable. I started my career right out of high school. Growing up in a small town I always knew my heart longed for something bigger, which brought me to Horseheads. Still close to home where I enjoy the company of my wonderful family and beautiful daughter. But big enough to give me the freedom to be create. My passion lies in the heart of coloring, giving the most natural color or something spontaneous and outrageous. I am here to make you feel beautiful and strong, with all your coloring and cutting requests.
Besides Aveda she specializes in Matrix and Goldwell upon request.
Becca is available Tuesdays 9-5, Wednesdays 11-7 and Saturdays 9-1 for walk ins.
Follow Becca on Instagram @hairby_beccasue
With 20 years in the professional beauty industry I've spent 10 years intensely honing my craft while training as an educator with Paul Mitchell. Five years ago I went back to school to become a certified holistic health coach, in which first started to discover the dangers of all the chemicals we expose ourselves to through our daily beauty routines. I love making people feel beautiful and educating them on the vital importance of using non-toxic beauty products such as Aveda.
Follow Gretchen on Instagram @gretchenraebeautyandwellness
Native to the beautiful Town of Horseheads, I graduated from the Aveda Institute in St. Petersburg, Florida in 2010. I started my career in Sarasota, Florida in one of the Top 200 salons in the country and it has instilled a standard for experience and quality. I've since then moved back to Upstate NY where I gravitated towards working with smaller businesses. My career as a hairdresser has evolved from behind the chair to the ownership of Honeycomb.
My passion behind the chair is no doubt hair cutting (pixie, fine, course and curly) but I also love dimensional color as well. This industry is constantly evolving and I love expanding my knowledge with continued education and working with my team who are constantly inspiring me on a daily basis.
Outside of the salon I'm out and about with my dog Remi probably at Lowes, hiking some trails or enjoying enjoying local attractions. My roots run deep in this town and I look forward to sharing this piece of my heart with the community.
Follow Justina on Instagram @the_wandering_hairdresser